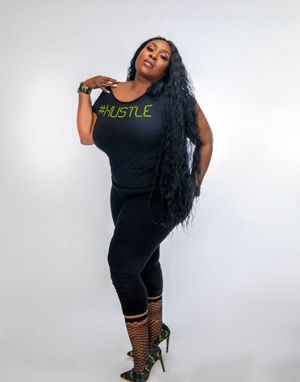 Her Story...
Setoria - Singer, Songwriter, and Entrepreneur, fell in love with the way music made her feel at the age of 6. Growing up, she sang in church, school choirs, and also explored the art of theater by participating in musical plays. 
Raised in the Washington DC area and heavily influenced by legends such as Chaka Khan, Tina Turner, Lauryn Hill, Jill Scott, Prince, Curtis Mayfield, Chuck Brown and others, Setoria continues to make her mark with energetic performances executing soulful cover and original tunes. Her first single, Shorty, released in May of 2014, hit the ground running with international recognition. She has worked with well-respected music makers and recognized in numerous blogs and magazines. 
Setoria became the Music Brand Ambassador for the SmSooches Woman Movement and co-wrote one of the Movement's curvy-girl anthems - Look at Us.
Her single Spell On Me, released in February 2016, was featured on the soundtrack of the independent movie - MUDA: When Time Is All That matters - An international independent feature film from Writer / Director, Prinze Whyee. The award-winning movie was created to highlight awareness to chronic kidney disease. Setoria was cast into the film playing herself as a night club singer.  The movie received numerous nominations at the 2016 Nollywood & African Film Critics' Awards (NAFCA) .
Setoria won the R&B/Soul Artist of the Year Award at the 2016 and 2017 Josie Music Awards . Her single Say My Name won R&B/Soul Song of the Year at the 2018 Josie Music Awards. The song's music video also earned a nomination at the Philadelphia Independent Film Awards and a win at the 2019 Philadelphia Film Festival for Best Music Video. 
Setoria delivered a new wave of sultry inspiration in her latest single, Back 2 Me. The jazzy/soul vibe reflects the inner thoughts of a woman who has finally decided to live her best life, but first, she must clean out her closet. The motivational banger earned the R&B/Soul Single of the Year Award at the 2022 JMAs. This year, Setoria returned to Nashville for the 2023 Josie Music Awards where she was nominated for R&B/Soul Artist of the Year!
The exploration of internet radio led her to serve as co-host to several independent internet radio shows. She then began producing her very own show, Black Gold Radio, advocating for independent artists in music, film and fashion. While deciding to end the show in the spring of 2017, Setoria continues to support independent artists, small business owners, and others who are making a difference in their communities by donating to charitable organizations and participating in community services. The launch of her motivational t-shirt collection, #HUSTLE, has been another creative avenue to inspire her listeners to never give up on their goals and to live their best life on PURPOSE!